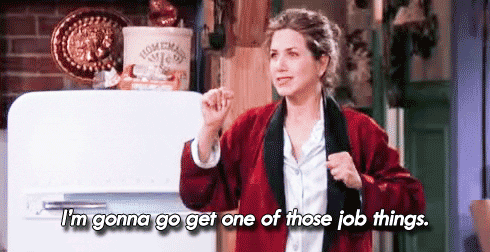 There comes a time in a student's life where you have to get out there and do stuff. Career stuff or just work related stuff to gain this thing called experience, prevent death by boredom or any other relevant reason you can think of. I have been at this crossroads enough to know some tricks of the trade. Every time I get asked by a peer or two how I got the gig, I tend to give a rather vague answer that goes something like, "Oh, you know, I just applied" and that just has to come to a stop,
Let's go back all the way back, I am talking my teens, eighteen, nineteen thereabouts. My freshman college days in Strathmore. Now, I am certainly not being paid to say this but Strath definitely has got the keys. Nearly every week there was a
campus corporate event
of some sort; career fairs, round tables, hack-a-thons. These shindigz almost always had the right people you needed to make the first impression of a lifetime to guarantee a job position of some sort.
Back then those were my selfish years. Honestly speaking, I had better things to do on a Friday afternoon (or so I thought) than attend these career jolting things. They were geared towards seniors any way who brought their A, for aggressive, game. Follow up meetings or word on the street the week after would be that someone scored an internship at some major company just by how much they put themselves out there. I hope you get where I am going with this. Basically, the world (your campus) is your oyster if you position yourself in the right place at the right time (said events) and actually put yourself out there; read up on the company or individuals just like you would if you were preparing for an interview so that you conveniently have some thoughtful insight to whatever is the topic of discussion.
Still around the same time I was an AIESEC-er which by the by has similar of the above said events, actually hosting quite a number even liaising with some really big names in the Kenyan corporate scene. That being besides the point, my VP for my portfolio at the time, Global Internship Program(GIP), worked for his dad. Hey Dwayne! To the human eye, you would probably go on and think classic silver spoon in mouth situation, probably didn't have to work quite as hard. On the flip side though, he used his
connections
. So who cares that you "didn't have to work quite as hard" my say, connections are meant to be used. Even my first internship was courtesy of my D-A-D. How is that for food for thought.
What I swear by though and has worked brilliantly for me in the past at least is
online job advert
s. Brighter Monday might as well make me their brand ambassador because I have got all but one of my internships from there; Storymoja, Tahoe Solar and now my current spot. During my cyber tarmacking days, I would type in something like "Internships in Kenya in July 2015" or "part-time jobs in Kenya in July 2015" and most times something that I was qualified for would pop up. Plain and simple, your search engine is your best friend. Finding it is just the the tip of the iceberg bookmark it because you know, life happens and apply...immediately before you get that pesky notification when you go back to submit your application, "This position is no longer available". It also helps to be on various job sites mailing list so that you are the first to cop that position.
You may want to go old school and
drop your CV at offices physical address
. Does this work? I have no idea but it's worth a shot . There is always a new building popping up in Nairobi nowadays, heck even whole business parks. If it is a new business they are almost always looking for an extra pair of hands. My advice always fake that you are office hunting or have an appointment because security isn't exactly very cordial towards job seekers. Hey, in this concrete jungle you have got to be shrewed.
On the new school front, more and more
jobs are being advertised on your timeline
at least on my Instagram feed. Diana Opoti
@dianaopotipr
advertised for twenty something African designers not too long ago, Kenya's favorite t.v duo Brenda Wairimu
@brendawairimu_
and Nick Mutuma
@nickmutuma
called for scripts a few months back for Kenya's first rom-com, Kiko Romeo
@annmccreath
@iona_mccreath
(who by the way has a clothing line under her mom's label Kikoti and modelled for Kiko Romeo,now what did I say about connections again?) just last week set out an ad looking for models
@lublaq
looking for interns. Class up your social media, this falls under always having an ear to the ground.
That said,
Have a good one!